Whilst tenants in England are spending 50% of their income on rent1, only 20% of those aged 25 own a property, which is 2 times less than just two decades ago2. In order to tackle this, the government introduced Help to Buy scheme. Over the period since the launch, the scheme has contributed to the purchase of more than 120,864 properties and supported 97,578 first time buyers, says Department for Communities and Local Government (DCLG).

The first phase of the scheme was introduced in April 2013 in England when government offered a 20% equity loan to buyers of newly-built homes. As a buyer you were required to supply a 5% deposit. The government reclaims the loan when the property is sold. For example, if the home in the example below sold for £210,000, you'd receive £168,000 (80%, from your mortgage and the cash deposit) and you'd pay back £42,000 on the loan (20%). You'd need to pay off your mortgage with your share of the money, as explained on helptobuy.gov.uk.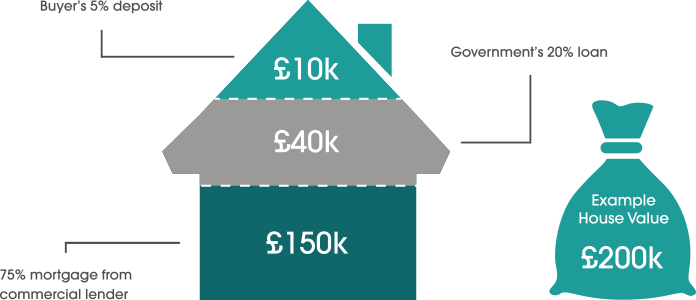 Source: https://www.helptobuy.gov.uk/equity-loan/equity-loans/
Arguably, the Help to Buy scheme has served as a quiet catalyst for increasing amount of new developments. Government figures show that 2017 was the first year since the crisis that the number of new homes beat 2007 levels. However, the scheme alone will not help to achieve balance between supply and demand. Cllr Martin Tett, the LGA's Housing spokesman, believes that, in order to tackle our national housing shortage, it is essential to achieve the Government's own target of 300,000 new homes, of all types and tenure, a year.
One can argue that, increasing amount of new build homes and development projects in conjunction with Help to Buy scheme, will lead to more balanced housing market in which supply and demand are slightly more balanced out. However, many industry experts blame the scheme for the increase of property prices. Designed to increase credit supply contributed, the Government's intervention significantly contributed to house price inflation between 2013 and 20153.

Overall, the scheme allows more and more people to tap into property investment or simply become a homeowner. Whilst its contribution to the increase of property prices is still and ongoing discussion among real estate professionals, at Moving City we do recognise the benefits this scheme has brought to our clients.



1 Osborne(2015) 2 Local Government Association (2017) 3 Shelter (2015)
Are you looking for properties to buy? Find your perfect property here.